Equestrian Facility
Planning and Design Considerations
by Gralla Architects
Site considerations | Image | Health and Safety | General construction issues | Making barn life easier
Generalization does not lend itself well to barn building because of the tremendous number of variables in any project: purpose, budget, image, climate, available material and labor, personal preferences, future plans, and so on. These variables make good planning critical to the overall success of the project.
"Planning is as important to the person who owns one or two horses as it is to the big breeder," states Todd Gralla of Gralla Architects, a firm that specializes in equestrian design. "It's about thinking through what you want in your facility and then figuring out the best way to get it. The idea is to build what is cost-effective, what gives you the best quality for your money, and what avoids doing something that will cost you a lot more later on."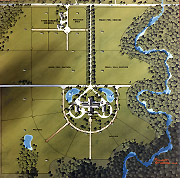 All of the barn problems that plague horse owners can be resolved. Some of the solutions are inexpensive. Many are not. But remember, all of them are much more cost-efficient if they are solved before the barn is built.
Site considerations:
A horse barn's site position should be given careful consideration. For example, the barn's orientation to wind and sun should be considered. The ideal is to capture summer breezes for their cooling effect while avoiding the winter wind. Roofs can be designed to take advantage of the sun's heat in the winter, with overhangs planned to provide shade for a cooling effect during the summer. Trees are to be treasured as a design tool to provide shade, to serve as windbreaks, and to screen private areas. Good water drainage is also essential for maintaining a healthy stable, as standing water and marshy areas are breeding grounds for insects and disease. (Top of page)
Although some horse people like to be dirt-plain and practical, others prefer their facility to say something special about them. For example, a trainer might want fancy finish materials and brass fittings to project a successful image or imply that the horses there fetch a premium price, while the therapeutic riding instructor might be more concerned with projecting the notion of safety and security. "Image can be a preliminary goal," Gralla notes, "and one that is important to recognize as you plan and budget. Your image goal will guide many of your choices including architectural style, building materials, interior fittings, and equipment." (Top of page)
Given the fact that a horse can injure himself in ways his owner never dreamed of, it is basic safe practice to eliminate sharp edges, fire hazards, and the potential for sickness or disease with attention to detail.
Barns with inadequate natural ventilation are a major cause of respiratory problems in horses as dust, odors, and germs cause air to stagnate and become unhealthy.
In designing any horse barn, Gralla considers good natural ventilation to be one of the most important features.
The principle of natural ventilation is not a complex one. Hot air naturally rises (think of a chimney). The problem occurs in making sure that air has a place to escape and that fresh air is continually pulled into the structure. "The barn roof pitch is a critical element here," states Gralla. A 6-12 pitch is recommended, meaning that for every 12 inches of length there are 6 inches of rise. This steeply pitched roof creates an inverted funnel effect, in which the hot, dirty air is forced toward the peak or ridge of the roof.
You must allow the air to escape. The ridge vent is one of the most common and economical means to open the ridge of the roof. The continuous ridge vent spans the entire peak of the barn and is always open. "We try to avoid mechanical ridge vents that open and close because they usually fail within a few years and are continuous maintenance problems," Gralla states. Clerestory vents and cupolas are other popular choices for good roof ventilation. Clerestory vents are larger structural components of the roof system which utilize a louver system to allow air to escape while keeping things like weather and birds out. They are capable of moving an enormous amount of air. Cupolas, contrary to typical modern uses, are not merely decorative embellishments. They are an excellent means by which to move hot air, allow natural light into the barn, and project an upscale image all at once. Unfortunately, most pre-engineered building companies offer grossly undersized versions which are usually not even open to allow air flow.
Now that there are openings at the top of the barn, how do you get air moving? One of the best methods is to have each stall equipped with a second door that opens to the outside. Dutch doors work well when the top half is opened, but an even better option is to install full mesh or grill doors. (In cold climates glass doors glazed with Plexiglas can be used on the outside of the mesh doors to allow light even during poor weather.) In addition, Gralla likes to use these mesh doors on the inside of the barn to improve interior air circulation. The openings in the mesh should be no larger than two inches square to prevent hooves and other things from getting caught, and the steel used should be at least 3/16" in diameter to prevent damage. "Full-view doors and stall fronts not only provide better ventilation, they allow more natural light infiltration and also make it more convenient to see what your horses are doing (especially in a broodmare operation)," Gralla said.
Plenty of natural light is also of vital importance in barn raising horses. Many of those features that improve ventilation also improve natural lighting. "For example, the outer stall doors, cupolas with windows, clerestory vents, and open front stalls all allow light to flow freely throughout the structure," Gralla stated. In addition, Gralla uses glass or partial glass alley doors (Plexiglas-glazed for safety) which, in his words, "really open the barn up, regardless of weather conditions."
Another important consideration in horse barns is flooring. From limestone screenings and blue clay to concrete and rubber brick, there are literally hundreds of different flooring options for barns. For stalls, Gralla prefers a product called popcorn asphalt. The asphalt is laid hot and hand-tamped, not packed. When it cools, voids similar to those in lava rock allow liquids to flow through to the subsurface drain system. When stalls are planned for heavy use, Gralla usually installs a trench drain at one end of the stall and often uses a rubber mat system. The trench drains should have a catch basin and basket for occasional cleaning, and all mat joints should be sealed to prevent bacteria from developing beneath the mats.
Rubber bricks are a good choice for wash and veterinary areas. They are very durable, non-slip, flexible, can be sterilized, and come in a wide variety of colors. These areas should also include a well-designed drain system to avoid blockage and overflow.
In alleys, Gralla has used many products, from limestone screenings to paving brick. "Many times it's a matter of budget," states Gralla. "While paving bricks or rubber brick may be preferred, it may simply cost too much for an area as large as the alley." A good choice is popcorn asphalt. It is relatively inexpensive, non-slip, and allows for some flow-through drainage. If you plan to wash or groom horses in the alley, it's a good idea to include floor drains for easy cleaning.
Fire safety is also important, although it is often overlooked when barns are built. Masonry and steel are not combustible; however, there are many other things within a barn that are, such as paint, equipment, electrical wiring, and more. There is no such thing as a fireproof barn. Even if your budget does not allow for masonry or steel construction, you can use wood products that have been treated to be fire-retardant. This doesn't make the structure fireproof, but it will slow the spread of fire. You should also be careful to follow building codes regarding electrical work to prevent the risk of electrical fire (keep in mind that codes should be considered a minimum requirement). In addition, Gralla recommends that his clients never store bulk hay in buildings where animals reside. Loft hay storage is not only a serious fire hazard, it also hinders the ability to maximize natural ventilation. (Top of page)
General construction issues:
Over the past 28 years, Gralla has used a variety of construction materials for barn structures, ranging from wood to pre-cast concrete. Experience has shown that masonry construction is an excellent choice for safety and reduction of long-term maintenance. While the initial expense is slightly higher than most other types of construction, the long-term cost savings far outweigh the difference. Masonry will give you peace-of-mind for decades. If masonry is used, the stall walls should be filled solid with concrete up to a minimum of four feet high to prevent the risk of kick-through. "Part of the beauty of masonry construction is the option of having bull-nosed, or rounded, corners," says Gralla. "This eliminates sharp corners associated with most other types of construction so the potential for injuries and cribbing is reduced."
Another great quality of masonry construction is that you can achieve whatever image or appearance you wish. The surface can be faced with wood or brick veneer, stucco, dry-vit, and other materials to fit your image goal. If you choose to paint your masonry, Gralla recommends using an epoxy paint which is very durable and cleans easily.
A good rule of thumb for all barns, regardless of construction materials, is to recess all faucets, electrical switches, and outlets. This will prevent them from damage and injury. It's also a good idea to use electrical outlet face plates with hinged covers, which will prevent moisture and other elements from eventually destroying the outlets.
As with any other type of structure, there are many roofing options for horse barns. However, budget, ease of maintenance, and appearance are the most important factors. A good all-around choice for any budget is metal roofing, either panels or standing seam. Even the lowest cost metal roofing should last a minimum of 30 years, while other types will have been totally replaced within that time frame and are sure to need periodic repairs. Over the last decade, metal roofing has seen more advancements than almost any other construction material. There is a very wide variety of styles available from traditional ribbed panels and standing seam to styles that give the appearance of slate or clay tiles. The color selection is also very diverse, and today's coatings are very resistant to aging and ultraviolet fading.
When Gralla uses metal roofing, he either fastens it to plywood decking or uses rigid insulation to help eliminate noise and also the potential for minor damage. Rigid insulation is a good choice for its obvious insulating qualities, and birds will not remove it or nest in it. It should be one inch thick. (Top of page)
Making barn life easier:
Keeping even a few horses happy and healthy is not always the dream we thought it would be. And if you've got a barnful, it can be a time-consuming venture. But here are a few ideas that will make your work more pleasurable.
Almost all barns have a feed room. Even if the feed room is near the end of the barn, it is a good idea to consider a four-foot wide external access door. This will make feed and supply deliveries much easier and efficient as the truck can pull up and unload directly into the feed room.
"We're also proponents of automatic insect spray systems to keep flies down. They're very inexpensive and cost-efficient," said Gralla. "As a labor-saving device, we really like to use automatic waterers even in our pastures. Many of our clients have been using them for over 15 years without any trouble or major maintenance. Of course you do have to clean them periodically. They have their own thermostat so in the winter they will not freeze and the horses always have fresh water. Some clients don't like waterers because they can't tell how much their horses are drinking. We understand this, but they are great labor-savers."
"We also prefer sliding stall doors over swinging doors," says Gralla. Swinging doors tend to get in the way of other activities and are not as easy to open and close when you have horse in hand." Sliding doors will still fully open even if there is a tractor parked or horse tied in the alley.

One functional feature Gralla repeats in many barn designs is a combination grooming area, wash stall, and veterinary treatment stocks. The approximate 12 by 24-foot area is open at each short end. A very functional circulation pattern. The stock enclosure in the center makes it possible to work safely with difficult horses such as kickers and vets really like them. Gralla positions counters and cabinets in the corners of this area to eliminate sharp edges that could cause injury. In addition, the floor is usually equipped rubber mats or pavers and a trench drain.
These are only a few hints and tips to create a horse barn that will stand the test of time, save labor, and prevent injury. More information and articles are available on the firm's internet site at www.grallaarchitects.com.
Gralla Architects has been in the business of planning and designing equestrian dreams since 1973. The firm has completed more than 340 equestrian facilities across North America, Mexico, and Southeast Asia ranging from Class I thoroughbred racetracks and multi-million dollar show facilities to commercial breeding/training operations and personal stables with as few as three stalls. The firm regularly gives presentations on equestrian planning and design at events such as Equitana USA, Racehorse America, Equine America, the American Horse Council Convention, and the North American Riding for the Handicapped Association (NARHA) Convention; and have been the focus of over 100 equestrian publication articles. In addition, the principals of the firm operate a 360-acre Thoroughbred farm in Lexington, Oklahoma and are actively involved in showing, racing, and polo. (Top of page)
Information on this page courtesy/copyright 2000, 2001 Gralla Architects
International Equine Facility Planning and Design
www.grallaarchitects.com or call 405-527-7000